A tribute to the late Phylllis Baxter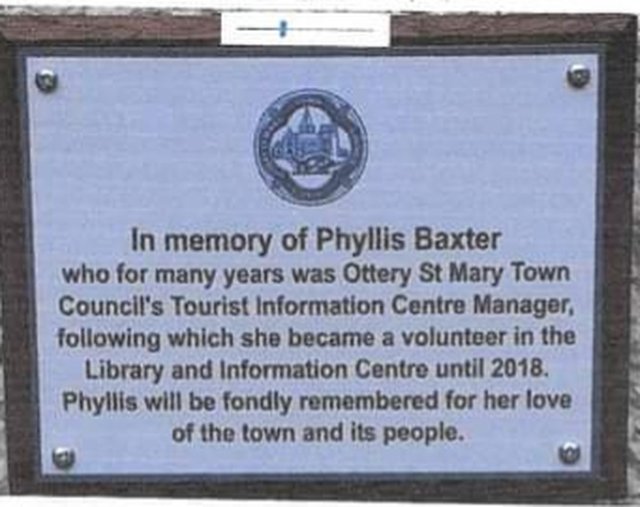 A PLAQUE TO HONOUR THE LATE PHYLLIS BAXTER (THE FORMER OTTERY ST MARY TOURIST INFORMATION CENTRE MANAGER AND TOWN COUNCIL EMPLOYEE)

The plaque design and wording were produced by the Town Council's CEO. The CEO thought the wording, albeit simple, best described how Phyllis felt about the town and its people.  The template was subsequently approved by the TC at its March 2020 Council Meeting and instructions given for the making thereof. The plaque is now in situ on the Council's Library/Information Centre wall, on Silver Street, in the centre of town.  Phyllis actually worked as the TIC Manager from the Broad Street premises for many years until its closure, from where she was best known.  Latterly she worked as a volunteer in the Library/Information Centre.  A formal unveiling ceremony is intended to take place when Covid restrictions allow.  The Town Council is delighted to honour Phyllis in this unique and special way, in recognition of her commitment, energy, selflessness and determination in promoting the town of Ottery St Mary.

Finally, special  thanks must be given to those parishioners  for  suggesting a  plaque  initially, which has  resulted  in this  fine tribute  to Phyllis.
Message issued by Ottery St Mary Town Council.