Be bright and be seen - message from Devon County Council as clocks go back on 27 October 2019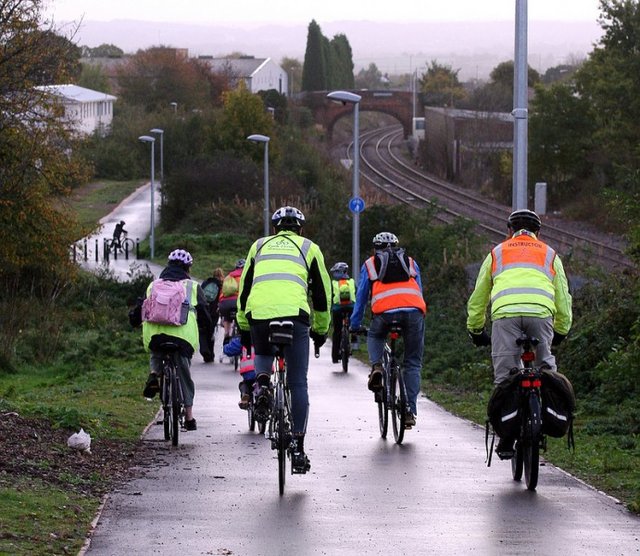 With winter slowly setting in, we have recently been reminded by Devon County Council of the importance as it gets darker and weather conditions get worse of all road users especially more vulnerable road users such as pedestrians, cyclists, motorcyclists and horse riders to "be bright and be seen".  Ensure that they are wearing reflective or fluorescent coloured clothing is key while out and about on Devon's roads.
The message is also for motorists to take extra care whilst driving and to look out for other road users and give them extra space when passing them on the road.

This extract has been taken for a publication by Devon County Council:
Advice to road users during the autumn and winter months is:

Where possible, pedestrians should use marked crossing points on roads and, although they may have right of way over traffic on a zebra or light controlled crossing, check that vehicles are stopping before walking out into traffic.
It is advised that cyclists wear additional reflective and bright clothing as well as using a white front light, a red back light and a red reflector at the back, which are required by law.
Pedestrians and cyclists are also advised to take more care when travelling in the dark and using headphones, or mobile phones for pedestrians. Because of reduced visibility and potentially bad weather conditions it is important to be more aware of your surroundings.
Horse riders should select crossing points very carefully. It is also encouraged that horse riders use fluorescent or reflective clothing or equipment.
All road users should look out for each other and take extra care, particularly in wet or icy conditions or if there are leaves on the road.
Councillor Stuart Hughes, Devon's Cabinet Member for Highway Management said: "As it begins to get darker and the clocks go back, journeys in the mornings and evenings will be made in increasingly poor light and weather conditions.

"'Be bright, be seen' is a hugely important message to all road users especially those who are more vulnerable in the bad weather and the dark. We encourage cyclists, motorcyclists, horse riders and pedestrians to wear bright clothing and to use reflective strips or lights on bags, bikes, helmets and clothing so that you can be seen more easily.
"I would also urge all motorists to drive carefully as conditions get more difficult over the coming months. It is important to remember to use your lights, even during the day, when weather conditions are poor, not only to see other road users but also be seen yourself."
Be safe and be seen!!
Bikeability cycle training for 7,000 children in Devon
It has recently been announced that Devon is receiving a grant of £280,000 through the initiative as part of Government announcement of £13m funding nationwide.
Cycling skills and confidence building to help children cycle more safely and also more often.
Picture from DCC publication
For more information please visit https://bikeability.org.uk/