Big Nights Out At The Bulverton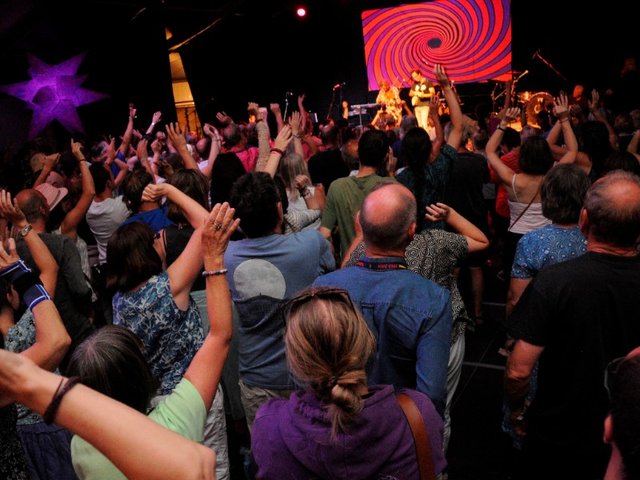 What do Highland party-starters Peatbog Faeries, Dartmoor fiddle-singer hearthrob Seth Lakeman, the mighty Oysterband in their 40th anniversary year and Welsh indie-folkers Rusty Shackle all have in common? There'll be amongst the dance floor filling acts at this year's Bulverton at Sidmouth FolkWeek.
The Bulverton is a buzzing hub of activity each night from 7pm through 'til the early hours during FolkWeek. The vibe is upbeat, friendly and fun, with early doors sessions and Open Mics, from 7pm, adrenaline-charged bands taking to the stage for the main event and a high-energy Late Night Extra ceilidh drawing the night to a close at 1.15am. Late night revellers can stay on even longer for an acoustic chill out session in the funky Betsy's Lounge. For a great night out with friends, The Bulverton offers a guaranteed Big Night Out to remember!
Hop on the festival shuttle bus at the Triangle in town up to Station Road (B3176) opposite the Campsite, and follow the colourful lights and flags up the hill past the famous FolkWeek Hollywood signage, or park up at the Festival car park at the top of the hill, next to the venue. A warm welcome awaits you at the top, with some very special Early Bird deals on cool Bulvertonian cocktails and ales, and scrumptious bites to eat at Polly Nostimo's little Greek food truck, between 7 – 8.15pm. Polly Nostimo's and Bar are open for revellers late into the night.
Soak up the vibrant décor, the cool Betsy's Lounge hangout with its cracking views, and most importantly, make your way on the dancefloor for a good old-fashioned boogie!
Big Gig Tickets: For those who want to stay on for the whole evening, including the late night dancing at LNE, a Big Ticket will cost you just £6 more than an evening show ticket.
Bulverton-In One:For those who want to party all week you'll want a Bulverton-In-One ticket which gives admission to all Bulverton events (and also include full week's Camping).
Here's a flavour of what to expect during the week:   
Fri 4th August - Mawkin
Cutting edge five-piece 5-piece band fusing blistering folk, blues and rock. 
Late Night Extra – Kirkophany (Caller Nick Walden)
Sat 5th August - Celtic Party Night with RURA and Ímar
A double header featuring Live Act of the Year at the 2015 Scots Trad Music Awards, RURA, "one of the most exciting bands on the Scottish folk scene" (Songlines), and all-star new generation Glasgow band Ímar features the prodigious talents of Mohsen Amini on concertina.
Late Night Extra – Lasair (Caller Gordon Potts) 
Sun 6th August - Steamchicken plus Special Guests
Ceilidh-swing swing veterans Steamchicken return with a re-invented set, a new hard hitting sound and the fabulous Amy Kakoura on vocals. Folk with a twist, with huge dollop of blues and ska, the powerful four-piece horn section drives a set featuring mostly original material together with their own take on a few classics.
Late Night Extra – English String Band (Caller Nick Walden) 
Mon 7th August - Rusty Shackle plus Jock Tyldesley & Vera van Heeringen
Welsh indie-roots band Rusty Shackle have been tearing up stages around the world since 2010. Brandishing their distinct folk-roots sound , expect an electrifying mix of rampant fiddle, scorching electric guitars, pounding drums, searing trumpet and banjo. Jock and Vera play Southern Appalachian tunes, songs, fiddle and banjo breakdowns, old-time country, traditional Cajun music as well as showcasing Vera's superb original songs.
Late Night Extra – Threepenny Bit (Caller Gordon Potts) 
Tues 8th August - Oysterband 
40th anniversary celebration with classic songs from every era of a long and mighty career. Oysterband, still full of ideas, revisit their repertoire down the years. Never static, the band make a modern, folk-based British music, acoustic at heart, sometimes intense, sometimes rocking.
Late Night Extra – Diatonics (Caller Emma Wooders)
Weds 9th August - Peatbog Faeries plus Feis Rois Ceilidh Trail
One of the best names on the contemporary folk scene, Peatbog Faeries from the Isle Of Skye are the ultimate party starters: high adrenaline roots music made for dancing.

Late Night Extra – Florida (Caller Martyn Harvey) 

Thurs 10th August - Seth Lakeman plus The Drystones
With yet another acclaimed album, Ballads Of The Broken Few, under his belt, Dartmoor's Seth Lakeman returns with his trademark stomp, swooping fiddle  and soaring vocals for a dynamic, visceral set.  Plus lively Somerset duo The Drystones.
Late Night Extra – Stumpy Oak (Caller Fee Lock) 
Fri 11th August - Euro Dance Party with Moirai and Friends
Jo Freya, Sarah Matthews and Mel Biggs, and friends, provide sublime, fluid dance music for our final night Euro Bal.

Late Night Extra – This Way Up (Caller Martyn Harvey)

Grab those Bulverton Big Gig Tickets – two-in one best value ticket price covering evening shows and Late Night Extra ceilidhs….just £6 more than the main evening show for a whole night of fun! Let's get this party started!
Please see below for the Full Programme to see all 700+ events on offer during the week
 Sidmouth_FW_full-prog-2017.pdf
For more information please visit https://sidmouthfolkweek.co.uk/