Coldharbour Farm Shop's Ho Ho Ho!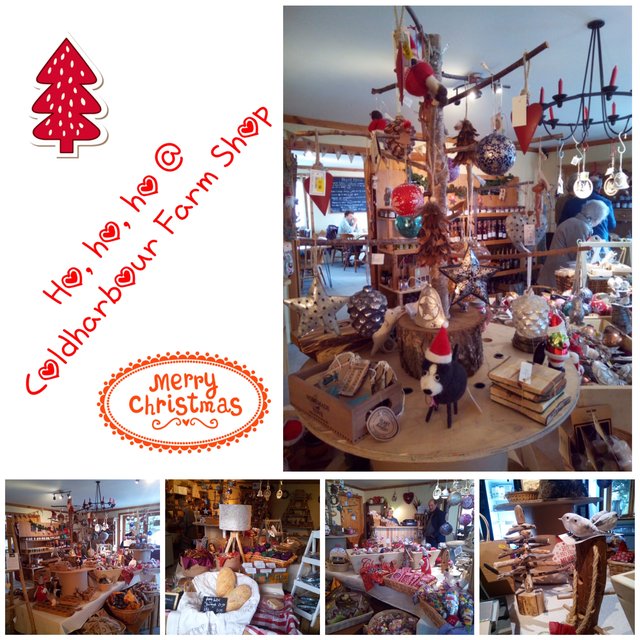 Visiting Coldharbour Farm Shop will give you a unique experience of fresh, local and fabulous all in one go!  Andrea and Beth stock a wide variety of fresh produce all locally sourced, all the way to the beautiful decorations which can be used to transform your house over the festive period.  If its a stocking filler you are looking for or something simply your eggs and bacon for breakfast I would definitely recommend going to Coldharbour Farm Shop.
Take a look at these pictures taken during the weekend.  The shop is filled with Christmas delights! There is definitely something for you, please go along and take a look for yourself.
There is also an Christmas Shop Open day this weekend Saturday 10th November 2018 9 am till 4 pm.
Come along and enjoy the first day of their fabulous Christmas Shop.  Complimentary glass of mulled apple juice while you browse the fantastic range of gourmet foodie treats, stylish Christmas decorations and beautiful artisan gifts.  You could also consider ordering your locally reared free-range turkey whilst enjoying free samples for the Christmas Food selection including their Home-cured Salmon, Home-made Quiche, Home-made Pork Pie, Charcuterie, West Country Cheeses, Jams and Chutneys, Puddings, Cakes and lots more.
Christmas Shop Opening hours Tuesday to Sunday 9 am till 4 pm and 9 am till 1 pm on Christmas Eve.
Come along and get into the early Christmas spirit!
For more information please visit https://www.otterystmary.info/directory/listing/coldharbour-farm-shop/