Coldharbour Farm Shop's very own GIN!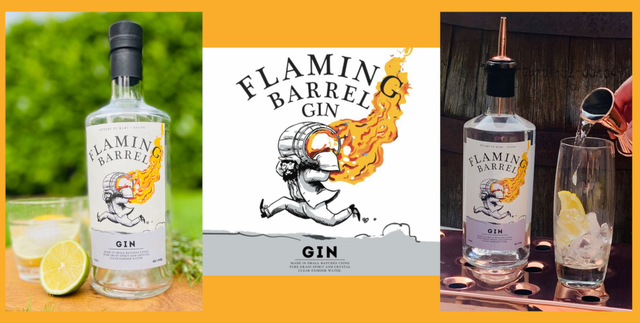 I've recently read that good friends don't offer advice, they offer gin!
This is definitely true of our local ladies Andrea and Beth co-owners of Coldharbour Farm Shop.  The shop doesn't only sell some fabulous local gins, rum, vodka, wine and other spirits, it has now got it's very own gin!!

The inspiration for Flaming Barrel Gin came from the Farm Shop's collection of locally distilled gins.  Andrea and Beth were so inspired by the amazing selection of South West Spirits; especially gins, that they decided it was time to add to their growing collection with a gin that would be unique to the lovely East Devon Town of Ottery St Mary.

As we know, Ottery St Mary's most famous event is the rolling of the Tar Barrels on November 5th each year, where born and bred Otterigians run through the Town's narrow streets carrying a flaming barrel on their shoulders.  People come from far and wide to witness this proud tradition and although opinions differ to the origins of this perilous revelry, we would like to believe that it came from a pagan ritual to cleanse the town of evil spirits.

To embrace this tradition, Andrea and Beth, in conjunction with Exmoor Distillery, have created a recipe that they feel celebrates this famous tradition with a delicious gin.  A hand-crafted, London Dry style single shot pot distilled gin made with a unique selection of botanicals including Pink Peppercorn and Citrus.  The combination delivers a light, citrusy and earthy gin, perfect over ice with a slice of lime and topped with Luscombe Devon Tonic Water... the ultimate chill experience best enjoyed with good company.

Flaming Barrel Gin is available to buy at Coldharbour Farm Shop - pop in and try a tipple and set your taste buds alight!
Well done Andrea and Beth!