Exeter based Charity, InFocus, Sets Up Shop in Ottery St Mary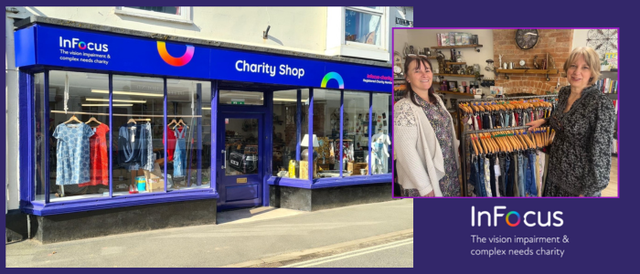 InFocus, a charity that supports young people with vision impairment and complex needs, has announced the opening of its latest shop in Ottery St Mary. The shop, located in Mill Street, offers a range of quality pre-loved clothing, bric-a-brac, books, seasonal plants, and more. All funds raised from the shop will go towards supporting the young people  cared for by the charity. 
Helen Kielstra, the shop manager, expressed her excitement at the opening of the new shop, saying: "We're delighted to open our shop doors to the lovely community in Ottery St Mary. We're so grateful for the warm welcome and support we've had from the public, traders, and suppliers who have made opening possible. We welcome anyone to come and have a browse through our high-quality items, knowing that with every purchase they're helping to fund the amazing work the charity does to help its young people live their best lives.  "Donations of unwanted items can be taken to the InFocus charity shop in Ottery St Mary – no appointment necessary. For larger donations, InFocus can collect. To  arrange a collection, call 01392 454232.
The shop opens Monday to Saturday, 1000-1700 and can be found at 6 Mill Street, Ottery St Mary, EX11 1AD
The shop in Ottery St Mary is the latest addition to InFocus' thriving retail network, which includes charity shops in Exeter, Honiton, and Sidmouth, as well as a successful eBay business.
InFocus has been supporting young people with vision impairment and complex needs since the 19th century. The charity runs a specialist college, adult residential care home, daytime adults services centre, and supported living accommodation.
For more information please visit https://infocus-charity.org.uk/