Fiver Fest - 26th June till 3rd July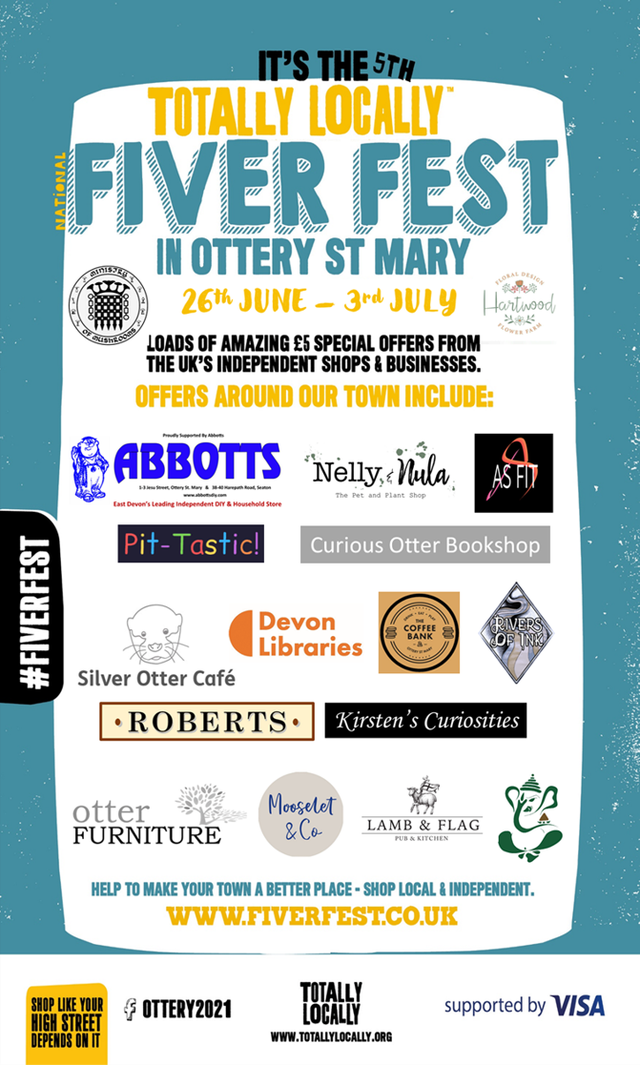 And so the weekend began...
Lots of our local independent traders around the town are taking part in the craze FIVER FEST!  Offering brilliant deals for just a fiver.
Here are some of the places you could pop into to grab yourself a deal
Abbotts DIY
Ministry of Mushrooms
As fit
Hartwood Flowers
Ottery St Mary Library
Pit-Tastic
The Coffee Bank
Rivers of Ink
Roberts
Kirsten's Curiosities
Otter Furniture Store
Mooselet&Co
Samosa Lady
Nelly & Nula
Curious Otter Bookshop
Lamb & Flag
Something for everyone!
Did you know that if every adult in Ottery St Mary spent just £5 per week in their local independent business instead of online or at the big supermarket it would be worth an extra £1.8 million per year going into the local economy.  Which means more jobs, better facilities and a nice place for us all to live.
Makes you think doesn't it?
But it's not too late as you can still find yourself a fiver fest bargain - just look at how many great offers are available!!!
Support your local businesses #shoplocal