Local charity supports community back into work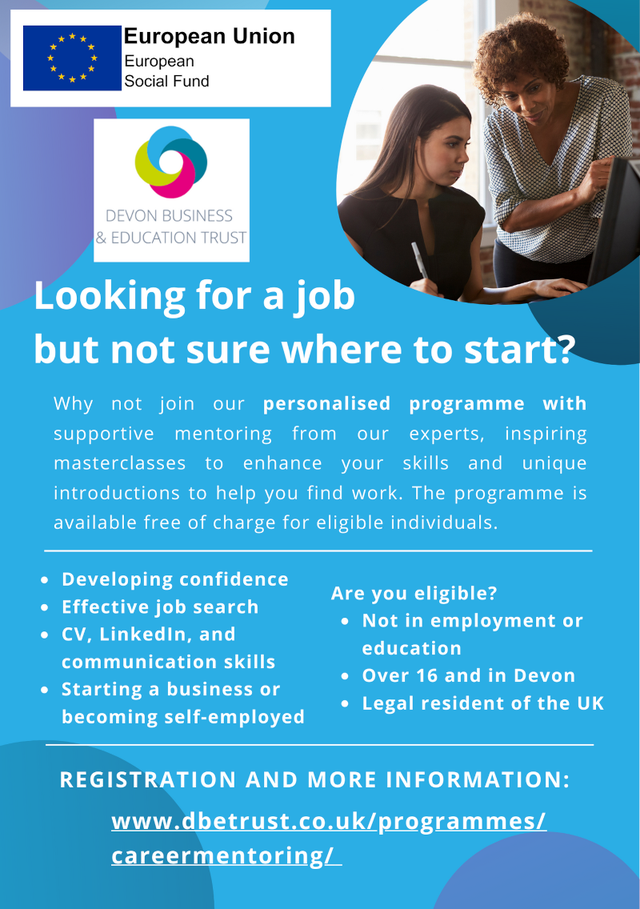 Local charity Devon Business & Education Trust, have got a fantastic programme supporting eligible candidates back into work.
The charity established last year are keen to be contacted by individuals of all age ranges and from all backgrounds and walks of life. The Career Mentoring programme which is funded by the European Social Fund (ESF), will give each participant a personalised mentoring programme which includes 1 to 1 sessions and masterclasses building tools to put you back in the workplace.  Skills such as confidence-building, building a personal online brand and profile and looking at things like CV writing, LinkedIn, places to look for work or even looking at starting your own business are all part of the programme (free to eligible candidates).
If you are looking to make a transition to a new career or feel stuck but ready to go back into work, contact Chris or Megan on 01884 220150 or email team@dbetrust.co.uk
Building a stronger community!
#charity #careermentoring #community #makeadifference
For more information please visit https://www.dbetrust.co.uk/programmes/careermentoring/