My days in Ottery - A personal perspective by Arturo Figueroa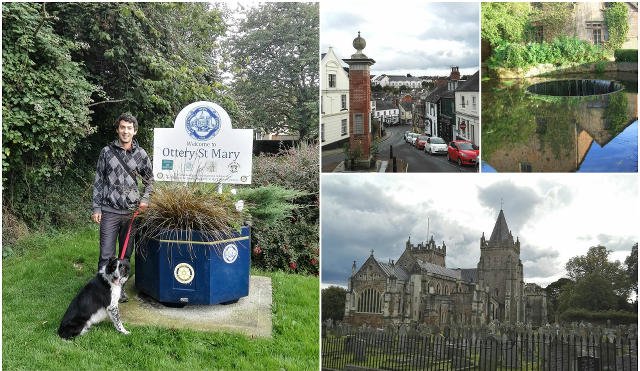 Ever since my first visit to Ottery St Mary, I have loved various things about it: the peaceful atmosphere (only broken by the punctual chimes of the bells or by a plane passing by), the kindness of its people and their love for their gardens, its activities and life outdoor, and of course the historical atmosphere created by St Mary's church, consecrated in 1260, whose image was the first I saw of this place.
I was born in the south of a long and narrow country, Chile, and later moved to the great Mexico City where I lived for many years.  Both places share a Latin American core but with diverse identities thanks to their traditions and celebrations.  Speaking of festivities, here two are celebrated which for me are intriguingly legendary and fantastical.  At the beginning of summer last year, I saw a group of excited children dressed as elves running through the street.  I later learned they were continuing the popular rural legend of Pixie Day.  Another celebration I haven't had the opportunity to see yet is Tar Barrels, but the very idea of barrels burning through the dark streets in the heart of Ottery seems pure mythology to me.
What else could I tell another foreigner like me who has never visited Ottery?
That winter is nostalgic, with short, cold rainy days, where the best thing to do is make a cup of tea (with the milk of course!) and read Samuel Taylor Coleridge, the romantic philosopher, and poet born here.
That summer arrives with an invasion of flowers, insects, and flocks of birds that play among the trees under the bright light of the sun.  And if it rains? No need to worry – the sun will come back out a few minutes later, only to hide once more to make way for the clouds and rain again.  And so it continues several times a day.  It's part of the climactic ritual.
That this place is very secure, the people are kind and you can enjoy nature in its purest form thanks to the Public Footpaths, pedestrian routes typical of this country, on which you can explore the surroundings of the town, for example following the River Otter, from where Ottery gets its name.
There are so many reasons to visit and see Ottery, and I never tire of doing so.  On finishing this article, I will turn off my computer, put on my running shoes and start out on one of my favorite routes.  Four kilometers starting on Fairmile Lane, continuing up to the historical Cadhay House then past The King's School.  From there I make my way home, tired but as always happy to return to my beloved Ottery.

By Arturo Figueroa

Twitter: @elmundodearturo
Instagram: arturofigueroac