Ottery Food & Families Returns With a Bang!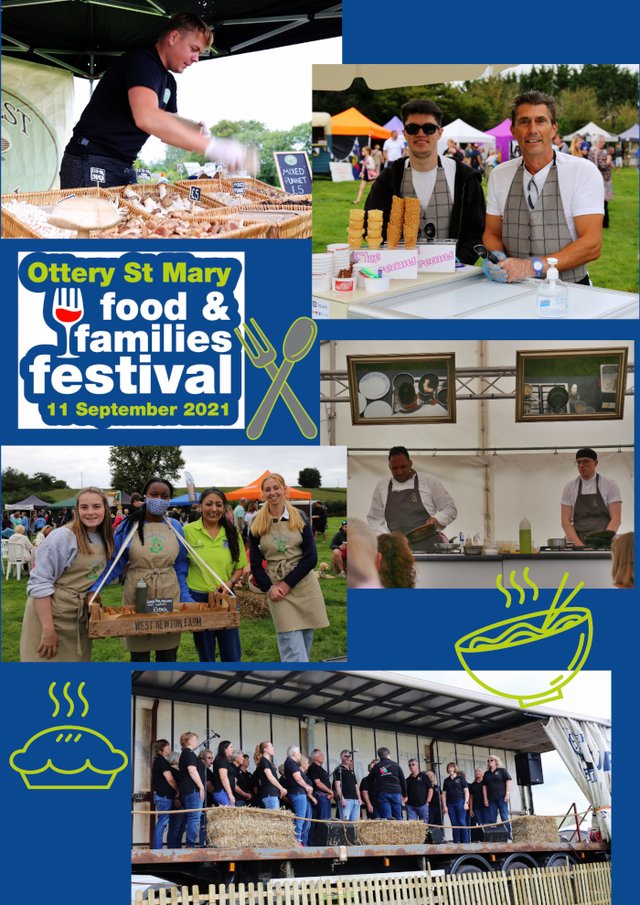 Over 3,000 visitors found their way to the new festival site just past Otter Garden Centre, on what was again – for 8th year in a row – a gloriously sunny festival day. Feedback received was overwhelmingly positive: a great family vibe, spacious layout, fantastic food and drink, and entertainment for all ages. It was clear that many, after 18 months of Covid related restrictions, were ready for a party, and partying is what people did.
The casual layout with straw bales for seating, a food market on one site, street food on another, the 'Ottery Village', where some 30 or so Ottery organisations informed people of what they were all about, a music stage, a bar, and of course the Food demo tent, kept people entertained for many hours. Having a free shuttle bus running on a continuous loop meant people could join the event, have a drink, and return home safely.

One of the highlights was most definitely the foodie demo by Lympstone Manor's Michelin Star Chef Michael Caines, with audience in and outside the marquee enjoying his lively, informative and fun explanations behind the dishes on the hob.

Commenting on how the event went, one of the organisers said: "We are so chuffed about how it all went. The mood was just fantastic. And the new site worked as well as we could have hoped it would. The space we used is about four times the size of what we had available when we were in town, which was all the more important given the social distancing many were still looking for. Yet it didn't feel too big, plus we only used up about half the field, meaning we have scope for future growth. Bring on 2022! "
SAVE THE DATE FOR NEXT YEAR : 3 SEPTEMBER 2022
For more information please visit https://otteryfood.org/