Ottery is Going For Gold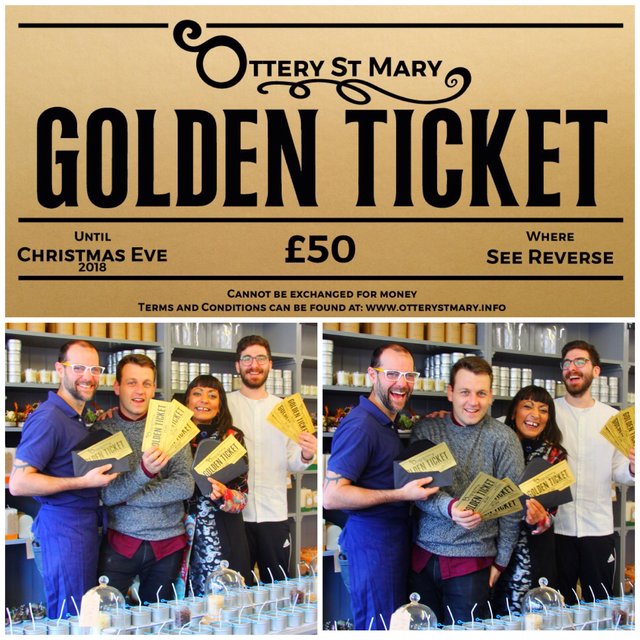 The business community of Ottery St Mary is uniting to get this year's festive season going with a series of ingenious events taking place in the town. First up is the town's 'Golden Ticket' event taking place over four Saturdays; November 17 and 24, and December 1 and 8. Participating businesses will be giving out free golden tickets, worth between £1 and £50 to customers to spend in the town. On the same days, Ottery's Golden Saturdays will be taking place across the town, with special offers, taste sessions, entertainment and food and drink. On November 30, the Christmas light switch-on and late night shopping has a superhero theme, so bring your cape. The town received a fantastic boost recently with the announcement that Ottery is now Plastic Free, a status awarded by Surfers Against Sewage. Come and see what all the fuss it about!


Terms and Conditions apply:

We are not responsible if a gift voucher is lost, stolen, destroyed or used without permission, and no replacement will be provided in these circumstances.
The voucher expiration date is stated on the front of the ticket and cannot be used after that date.
Vouchers cannot be exchanged for cash.
Vouchers cannot be used in conjunction with any special promotions, discount tokens, coupons or cards.
Vouchers cannot be sold to any third parties without our consent.  If we do give our consent then such consent may be subject to any conditions which we impose.  In any event, you may not sell the Vouchers through the internet without our express written consent, which you must obtain before making any such sale. We reserve the right at all times to refuse to permit any sale of Vouchers by you to a third party.

In participating shops:
1. We reserve the right not to accept vouchers that have or appear to have been forged, damaged, defaced or otherwise tampered with
2. Products returned that were originally purchase with vouchers are only permitted fir exchange to the value of the original voucher.

3. Where the purchase price is in excess of the available balance on the Voucher, the difference will need to be paid through any other payment means accepted by the participating shop.

From left to right: Dan Prince (FillFull), Richard Hills-Ingyon (Recycled Candle Co), Tina Chauhan (Samosa Lady) and Sargon Latchin (Recycled Candle Co).