Ottery St Mary Primary School Fete - this Saturday 8 July 2017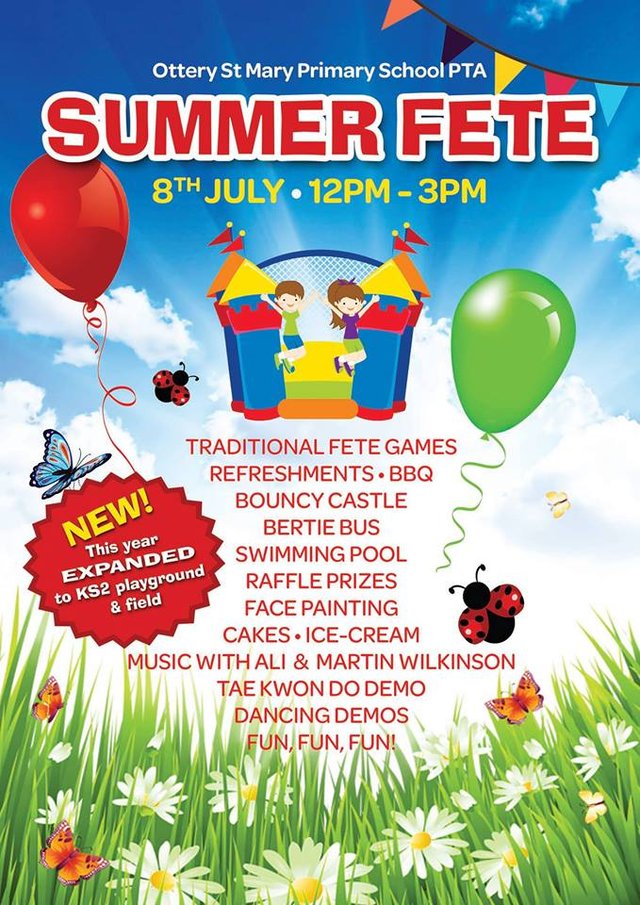 Running for another year and again promising to be a great event!
Activities for the children, stalls and lots to eat and drink from BBQ to cakes, tea and coffee.
Loads going on for all please take a look on their leaflet attached.
There will also be a raffle with some amazing prizes...take a look for yourself:
Vouchers from Killerton, Milky way adventure park, Butterfly and Otter Sanctuary, Otter Nurseries, Tickety boo, Fishing shop, Country Farm Butchers, Poppy's cafe, Otter Produce, Poppadum
Some other prizes include:
Flask and bird feeder - Abbots
Fruit infused wine and box of chocolates - McColls
Insulated cool bag - Roberts
Decorative plate - Pine Shop
2x no.7 beauty boxes - Boots
Ottery book - Curious Otter
Plant - Dilly's Florist
Bottle of wine - Christopher Piper
Frozen lunchbag and tea towels - Otter Wishes
A package of meat - Rusty Pig
Handmade apple and pear - Sewing Room
3 sets of leather insoles - Cobbler
Jar of jam - Crusty Cob
Set of headphones - Wallart
Bottle of dog shampoo - Dog grooming
Bead bracelet - Paul Ashby Crane & Son.
A massive thank you to all the supporting local business for the prizes.
We are looking forward to seeing you all there!