Pixie Day 2022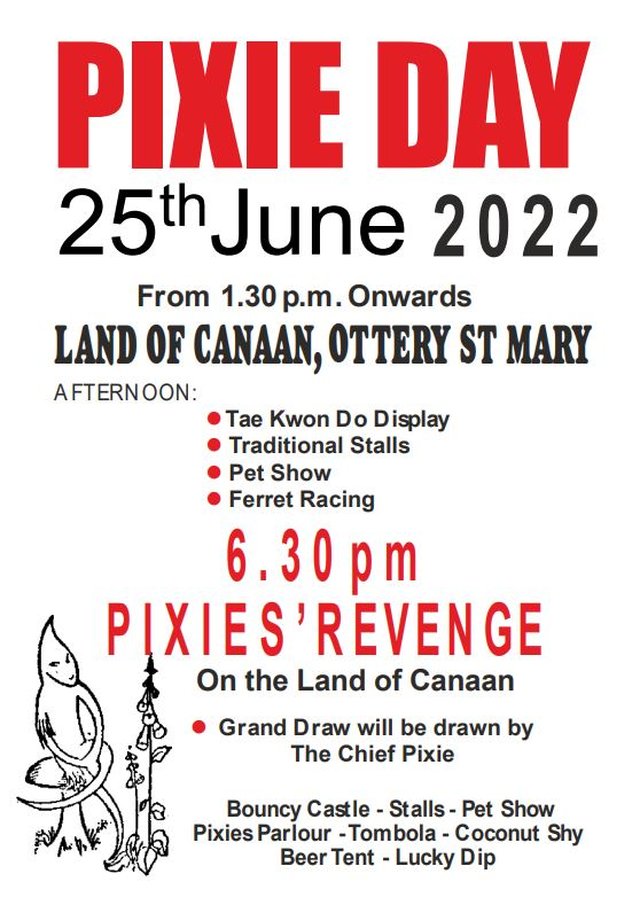 Now that things are more or less getting back to normal, it is particularly pleasing to announce that Pixie Day is returning not only to the summer, but to Midsummers' Day, 25th June, on the Land of Canaan. Last year a few changes were forced on us for various reasons, but they proved so beneficial that we have decided to adopt them this year. 
So, the fete will commence at 1.30, and end at about 7.30. The Pixies will be leaving from the URC hall at about 6.30 rather than the Coleridge Pre-School Playgroup, to run up to the church to capture the bell-ringers. They will then take them down to the Land of Canaan for a short rest before taking them back to their cave; unless, that is, someone mentions the magic phrase, 'God Bless my soul and Saint Mary' to release them. Anyone who wants to know the history this phrase will find an explanation in the programme which will soon be on sale. 
You will find the fete has the usual range of attractions – stalls, games, ferret racing, Tae-Kwon Do demonstrations, live music, a bar, refreshments and a pet show. Also, of course, the opportunity to meet and chat with all sorts of people, and knowing that all the funds raised will be used to support the Scout and Guide groups in the town, which between them number almost 200 young people.