Radio and TV Legend David "Fitz" Fitzgerald Brings a Touch of Showbiz to Ottery St Mary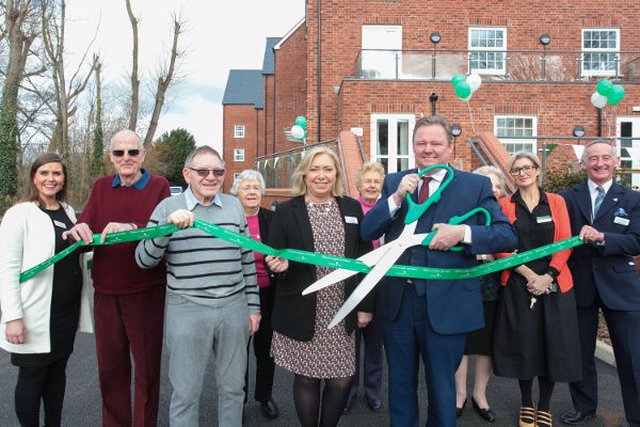 Television and radio favourite, David "Fitz" Fitzgerald delighted local retirees from Ottery St Mary with tales from his presenting career, when he attended the official opening of McCarthy and Stone's Tumbling Weir Court Retirement Living development in Ottery St Mary.
Fitz has had a long and illustrious career; after first appearing on commercial radio in the 1980s, he moved on to television.  Among his many presenting roles, he worked for Sky News during the mid-1990s and he was at the forefront of the reporting of almost every major disaster over the course of his nine years there. 
Now the voice of the 'Fighting Fitz' radio show on BBC Radio Devon each morning, Fitz joined guests at Tumbling Weir Court, including residents, staff and members of the public, to talk about his eventful career. Attendees heard first-hand about some of the news stories he has reported on over the years, and also chatted about the importance of being a part of a community, such as Tumbling Weir Court. 
Fitz commented: "It was a pleasure to visit Tumbling Weir Court and give a talk on my colourful career. The development provides an excellent solution for those looking to enjoy an independent and active lifestyle in retirement, and I enjoyed meeting and chatting to residents. It's clear everyone values the quality of life afforded by their surroundings and the freedom of having a range of services on their doorstep."
Geoff Bates, Head of Marketing at McCarthy and Stone South, commented: "We are delighted so many Ottery St Mary retirees and their families joined us for the official opening of Tumbling Weir Court and we are very grateful to Fitz for letting us quiz one of BBC Radio Devon's favourite presenters, and for making it a day to remember!  
"This particular event is just one example of the many regular and varied social activities we organise for residents. Not only do these get-togethers provide an opportunity for companionship, they also help to showcase the fantastic close-knit community which has already been created here."