Remember...remember... the 5th of November!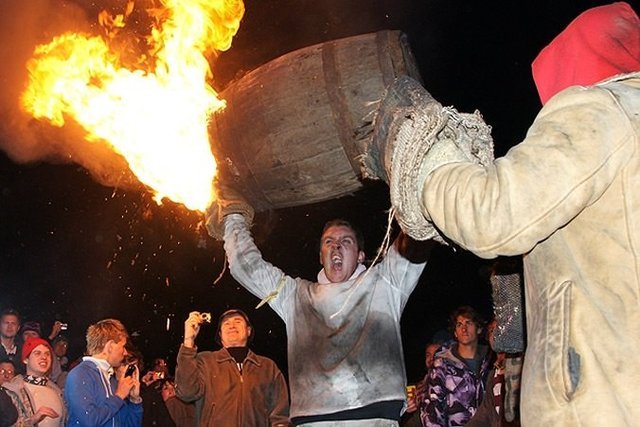 Yes, it's that time of the year again when I normally tell you about the crazy event of Ottery St Mary.
Crazy for some but not for all.  This traditional yearly event marks the gunpowder plot of 1605.  Every year the rollers go out into the streets carrying burning barrels on their shoulders.
Safety guidelines have been issued and there will be plenty of marshals to ensure the safety of both the visitors and rollers.
If you are travelling to Ottery St Mary by car, then be advised of the following car parking facilities.  No other parking will be available due to the necessity for clear ways in case of an emergency.  Road closures will be from 4pm on Saturday 5 November till midnight.  A diversion route will be in place which will take you via Sidmouth Road, through to Longdogs Lan and down to Slade Road.  This will bring you down to Chineway Road.
Car Park 1 - Barrack Road (Main car park situated off Barrack Road, B3174.  Access available from Daisy Mount exit off the A30)
Car Park 2 - Strawberry Lane (Ottery St Mary Cricket Club. Access only from Barrack Road, B3174)
Car Park 3- Finnimore Estate (This is the Disabled parking location)
Car Park 4- Otter Nurseries (Main coach park, Gosford Road.  Access from A30 via B3177 Alfington.   Charges £40 for minibuses £75 for 26 seater coaches and £150 for 52+ seat coaches/buses)
Car Park 5- Ottery Football Club (Located off Butts Road.  Access from A30 via B3177 Alfington)
All monies raised from car parking charges go towards running the event and also to charities and organisations that help on the night.
    Remember, remember!  
    The fifth of November, 
    The Gunpowder treason and plot; 
    I know of no reason 
    Why the Gunpowder treason 
    Should ever be forgot! 
    Guy Fawkes and his companions 
    Did the scheme contrive, 
    To blow the King and Parliament 
    All up alive. 
    Threescore barrels, laid below, 
    To prove old England's overthrow. 
    But, by God's providence, him they catch, 
    With a dark lantern, lighting a match! 
    A stick and a stake  
    For King James's sake! 
    If you won't give me one, 
    I'll take two, 
    The better for me, 
    And the worse for you. 
    A rope, a rope, to hang the Pope, 
    A penn'orth of cheese to choke him, 
    A pint of beer to wash it down, 
    And a jolly good fire to burn him. 
    Holloa, boys! holloa, boys! make the bells ring! 
    Holloa, boys! holloa boys! God save the King! 
    Hip, hip, hooor-r-r-ray!
English Folk Verse (c.1870) The Fifth of November
Image provided by Ottery St Mary Carnival Committee