Sea-Themed Treats at FolkWeek - 4-11th August 2017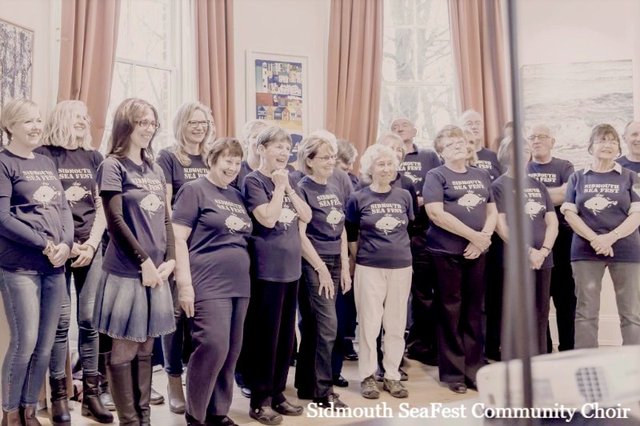 Sidmouth FolkWeek is lucky to be located in an idyllic seaside setting: the attractive regency resort nestled in amongst stunning red cliffs, with a beautiful Esplanade and beach area. During FolkWeek, the seafront fills with colour and atmosphere as programmed dance displays and buskers, processions and special events entertain town visitors. Seaside fun abounds, making the event an ideal summer holiday treat!
Celebrating connections with the sea, this year FolkWeek is delighted to be working with Sidmouth Coastal Community Hub, organisers of Sidmouth Sea Fest to present the Sidmouth Sea Fest Community Choir and Sidmouth Fishing Heritage Film Working the Sea at the Manor Pavilion (7th August) as well as bringing back the ultimate shanty crew Fisherman's Friends to the Ham Marquee stage for an always-popular pre-Festival concert on 3rd August at 3pm.
Working the Sea tells the story of Sidmouth's fishing heritage, following one resilient family, the Bagwells, from the war years onwards, through romance and tragedy. As the women in the family pick up the pieces, it also weaves contemporary users of the coast (from the lifeboat to the sailing club) into the narrative. Ultimately this is a story of how a mutual love and respect for the sea draws a community together.  The film will be screened alongside another fishing heritage film from Easter Ross in the Scottish Highlands with a live soundtrack from renowned Scottish fiddler Duncan Chisholm in collaboration with the young Feis Rois Ceilidh Trail team. The show is a perfect collaboration highlighting the connections that exist between coastal communities.
'This stunning film: fascinating and inspiring, funny and humbling is a powerful reminder how lucky we are on the coast'. Coco Hodgkinson and Louise Cole, Sidmouth Coastal Community Hub Directors
Cornwall's finest briny crew of shanty singers, Fisherman's Friends, back by popular demand, have no gang leader, no choir master and no holds barred. Each and every member of this unique group are or have been fishermen, lifeboatmen and coastguards (as well as builders, artisans, hoteliers, and shop keepers) in Port Isaac. Expect rousing, upbeat songs and barrels of fun.
Support comes from the fine singer Jim Causley, a singer/accordionist who is passionate about traditional song and particularly that of his native Devon.
For details of the full line-up and events at the 63rd Sidmouth FolkWeek, recent recipients of a prestigious Blue Plaque award, visit the website link below.
For more information please visit https://sidmouthfolkweek.co.uk/