Sidmouth FolkWeek 3-10 August 2018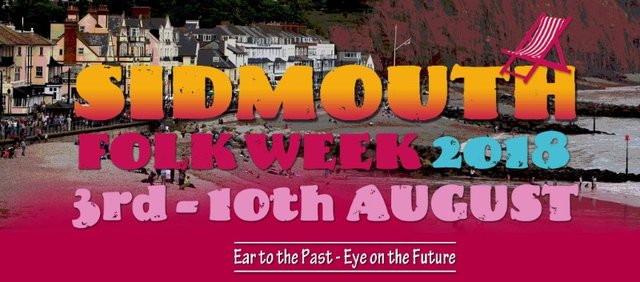 Ear to the past, eye on the future
Counting down the weeks until the 64th Sidmouth FolkWeek? Well, now you can get planning in earnest as the 2018 programme is now available.
Head out into the garden, soak up the sunshine and get browsing! Find your own favourites from the 700+ events in the programme.
Whatever you choose, you can custom build your own festival from a diverse range of events from unique shows to firm festival favourites.
Some very special shows take place at The Manor Pavilion this year, including Living By The Sea – a folk-style Greek chorus with storyteller Matthew Crampton and Faustus; The Year Turns Round Again – an original dance show inspired by the cycle of the seasons with Ben Moss and Hazel Askew; Will Pound's Through the Seasons – The Music of Morris and Folk Dance, showcasing beautiful arrangements of traditional dance tunes and songs. Will is joined by Benji Kirkpatrick, Ross Grant, Debs Newbold and John Kirkpatrick. And there's The Life and Songs of Edward Capern – The Postman Poet with Nick Wyke & Becki Driscoll and Liz Shakespeare, following in the footsteps of this Victorian postman of North Devon, illustrated in song, music, book readings and poetry; and a Sounds of Modern Scotland concert with Kinnaris Quintet, Ryan Young with Jenn Butterworth, Hector Riddell and Josie Duncan & Pablo Lafuente.
Two hot-selling In Conversation events also taking place at The Manor include Billy Bragg talking to Colin Irwin about his best-selling book Roots, Radicals and Rockers and Peggy Seeger talking to Sandra Kerr about her memoir The First Time Ever.
And for headline shows, head to The Ham for three daily concerts with some outstanding shows, including evenings with 2018 Folk Award Singer Of The Year, Karine Polwart; Show of Hands with Miranda Sykes, Blowzabella at 40 with Special Guest Jim Causley; Drever, McCusker, Woomble; Cara Dillon; Kathryn Tickell & The Darkening.
A taster of what's on the daytime programme includes: Martin Carthy & John Kirkpatrick, The Rheingans Sisters, Stick In The Wheel, Naomi Bedford & Paul Simmonds, Steve Tilston & Jez Lowe, Narthen, Gordie MacKeeman and His Rhythm Boys, Alden, Patterson and Dashwood, Alistair Anderson & Northlands, Pete Coe, Edgelarks, Sam Carter, Faustus, National Youth Folk Ensemble, Jackie Oates, Cohen Braithwaite-Kilcoyne, John Doyle and more.
Before the festival starts in earnest, Pre-Festival shows start on Thursday 2nd August with vintage, classic & surprising poems set to music from ROGER McGough + LiTTLe MACHiNe and iconic British folk-rockers Fairport Convention and on Friday 3rd with the all-singing, all-strumming, super-entertaining The Ukulele Orchestra Of Great Britain.
Evening roots parties at The Bulverton promise to be belters in 2018, with main show acts including Eliza Carthy & The Wayward Band, Police Dog Hogan, False Lights, Elephant Sessions, Monster Ceilidh Band and Blackbeard's Tea Party…and all followed by Late Night Extra ceilidhs.So get planning now! Create your Sidmouth FolkWeek 2018 out of the 700+ event programme including headline concerts, intimate concert series, roots dance parties, ceilidhs, folk dance, Children's festival, storytelling, traditional sessions, workshops, display dance and much, much more.
For more information please visit http://sidmouthfolkweek.co.uk/wp-content/uploads/2018/07/2018-FESTIVAL-Programme-Med-Res.pdf