Sidmouth FolkWeek 31st July – 7th August 2015 Ear to the past, Eye on the future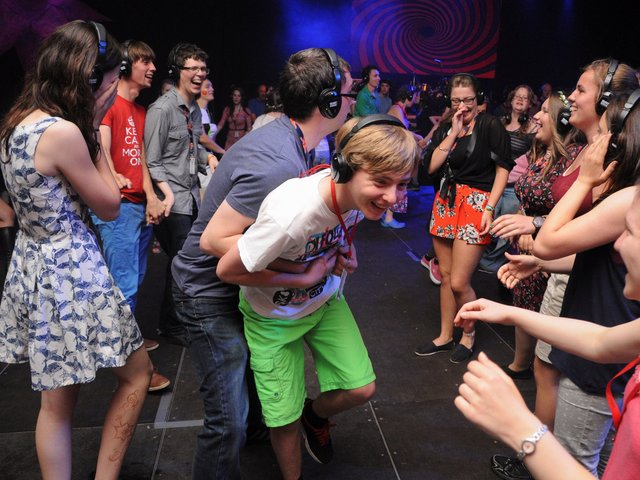 Sidmouth FolkWeek may be 61 years old, but we're definitely young at heart!

The perfect seaside holiday festival, which runs from 31st July – 7st August, prides itself on its pan-generational appeal, with provision for all ages and a wide range of musical tastes, as well as offering plenty for those who like to get firmly stuck-in and involved in music, dance and song-making themselves!

In 2015, as we head into our 7th decade, we are very much focused on the next generation of the festival and festival goers, building build a sustainable event which will last for at least the next 60 years!

So what's on offer this year for the young (and young at heart!)?

The hub for upbeat and funky roots dance parties, evenings at the revamped Bulverton start early with music sessions (and some fantastic deals on cocktails at the bar and a tasty range of food!) leading into the main evening gig, followed by a energetic Late Night Extra ceilidh and then a chance to end the night with a chilled-out early hours session with music, dance and song at the new dedicated late-night relaxation space, Betsy's Lounge.

18-25 year olds are in for an extra special treat this year with special ticket deals for Bulverton evenings! Youth tickets are available for under 18s and for over 25s, a Bulverton Big Ticket deal also offers great value…or, better still, a Week, Weekend or Day Ticket for access to other festival events.

The Bulverton line-up is guaranteed to raise the roof with a range of UK festival favourites, including: Skye's party starters Peatbog Faeries, to the athletic Demon Barbers XL Disco At The Tavern show, Manchester roots-reggae from Edward II, Bristol's acoustic ravers Spiro, klezmer, dub and hip-hop stylists Tantz plus the crowd-pleasing Coco & The Butterfields and a last night dance party with the new Anglo-French sensation on the block Topette. And be sure not to miss the fun-filled (though not noise-filled) Silent School Disco with some classic and modern school disco hits.

The exclusive 18-25 Bulverton-in-One (BiO) ticket deal offers top value for the evening events, Late Night Extras and Betsy's Lounge plus a full Week Festival Camping Pass, a Week Bus Pass and a book of 6 Workshop Tickets..See details on link below.

For the slightly younger crowd, our long-running (born at Sidmouth) Shooting Roots youth workshops programme is aimed at 12-18 year olds, created especially by and for young people, to make new friends, try new things and have an absolutely wicked time.

Taster Sessions offer fun and frantic micro-workshops in almost every area on offer throughout the week, including the funkiest, folkiest multi-instrumental ensemble Funky World Band, plus hanky twirling, stick smashing, stomping and skipping,
or drop-in lino-printing or a chance to use their imagination, words and bodies to tell fantastic stories in theatre sessions. A unique and life-changing week of events!

As well as opportunties for young festival goers, there are many great performances from new names and fresh talent. The English Folk Dance & Song Society (EFDSS) bring us some great new voices in their Folk Rising Plus series including Maz O'Connor, Alma, and Jaywalkers, and media sponsors fRoots are back with some leftfield delights in the A Cellar Full of Folkadelia series at Carinas, with the likes of Lynched, Twelfth Day, Heg & The Wolf Chorus, plus a special Bulverton night with Spiro, Telling the Bees and Amadou Diagne. Brand new

Hootenanny@Carinas sessions feature upbeat evening programming with some hot new bands like Keston Cobblers Club.

Thanks to the generous support of Creative Scotland, a series of Spotlight Scotland events will run this year, including the young talents of Feis Rois Ceilidh Trail who will perform on main stages and join our own Shooting Roots for joint workshops and events, as well as The Tweed Project, Barluath, Rachel Newton, Mischa Macpherson, Ewan McLennan Trio and more.

And still there's more…the chance to sing with the young choir Stream Of Sound, and to be amazed by the Somerset-based National Centre for the Folk Arts Halsway Manor Hothouse young musicians' showcase at a number of events throughout the week….the list goes on.

Be sure to check out the full programme of events, published online in early July on their website.
For more information please visit http://www.sidmouthfolkweek.co.uk/index.php?page=tickets