Sidmouth FolkWeek's Festive Family Fun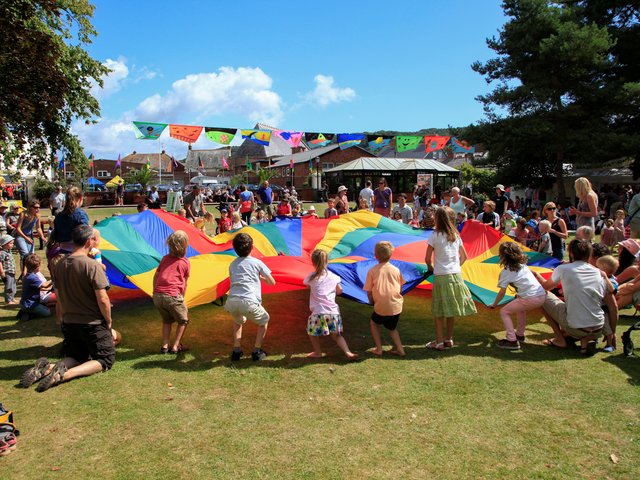 As some children reach their last day of term in Devon (and a week to go or so for others), Sidmouth FolkWeek commitee have issued the following on what they have to offer for children and families at this year's Sidmouth FolkWeek.

Throughout the festival's long history, children have always been a focus in terms of high quality, creative and participative programming, and we are proud of that legacy. This year sees some amazing events for families - from music, dance, song and craft sessions and workshops to great Family Evening shows with festival guests.

Phew! That long summer holiday is stretching out ahead of us…. a great chance to recharge the batteries and spend some quality time with your loved ones.

If you haven't already got your family holiday sorted, why not join us at Sidmouth FolkWeek? A chance to dip your toes in the sea, to enjoy an ice-cream or three… and to take part in the amazing Children's Festival jam-packed with great fun, creative and musical activities for all ages to enjoy.

Blackmore Gardens is the colourful hub of the Children's Festival – flags and pennants flying, dream catchers hanging from the trees, picnic blankets spread, great food on offer – with a diverse range of activities on offer, including workshops, family drop-ins, Young Performers Showcases, great performances and pop-up events.

In addition to the wall-to-wall daytime activities, Family Evening Shows runs from Saturday – Thursday with some amazing festival guests, including an opportunity for families to experience the spectacular and colourful music and dance of the Tashi Lhunpo Tibetan Monks at close quarters; a special show from The Spooky Men's Chorale; a Family Story Night with local storyteller Clare Viner and old favourite Chris Cole; an enchanting puppet show from Professor Popup and more.

For a Children's Festival Programme visit www.sidmouthfolkweek.co.uk for full details.

A Children's Festival Season Ticket provides priority admission to all children's workshops (space permitting) & evening Family Shows, allowing you to make the most of all the activities on offer.

Daytime workshops include:

For 8 years+:
Sock Puppets, Taiko Drumming, Mini Melodeons, Morris Dance, The Craft Carousel, Percussive Dance, Sidmouth Seaside Stompers Ceilidh Band, SING! with Stream of Sound and Cranky Tales

For 6-7 year olds:
Crazy Crafts, Fun Songs and Silly Songs, Sock Puppets with, Fun Percussion, Spoons Workshop

For 5 year olds and under:
Fun Percussion, Action Songs, Kindergym, Teddies Hospital, Sing- a-Long Songs for little ones, Mini Crafts, Fun Percussion, Messy Crafts

Family Drop-In Events:
Drop in Creative Crafts, Family Ukulele Workshop, Messy Church, Family Stories, Pinhole Cameras, Meet a Real Astronomer from the Norman Lockyer Observatory, Processional Carnival Costumes, Junk Musical Instruments Making, West African Songs and Rhymes, Dance Around the Maypole

Daily Entertainment on and around The Garden Stage in Blackmore Gardens features Anna Mullins & Beth Gifford, Holly Morwenna, Kayobi Taiko, Professor Squeezyjig, Sadie Horler, Walkabout Doris, Greg Russell & Ciaran Algar, Hannah Cumming, Arthur Coates, George Gilman, Georgie & Phoebe, Sam Mabbett & Dylan Cairns-Howarth, Professor Pop Up, Daisy Vaughan, Uncle Tacko's Flea Circus and Captain Ginger, Bertie Wright, Roots A Capella, East Devon Roots Choir, Sheffield City Morris, Stone Monkey Rapper, Fool's Gambit Morris, Pig Dyke Molly, JBS, City Clickers.

Children's Festival Workshops can also be paid for on the door at the prices shown in the Children's Festival Programme. Children 5 years and under and whose parent/carer has purchased the appropriate adult season ticket have free entry to events for the under 5s.

Local children and families have been involved in the preparations for this year's festival with due to the generous support of the Keith Owen Fund of the Sid Vale Association. At Sidmouth CE Primary School the children have been involved in forming the Sid Vale Spoonchestra with Jo May who will perform in Blackmore Gardens on the first day of the Children's Festival. The children have also had the opportunity to Come Clog Dancing with Alex Fisher and to practice their Circus Skills with Steve Eldridge, which also leads to a festival performance. The Catching Dreams Project was a collaborative project between Clare Viner, a local storyteller, Cuckoo Crafts and Sidmouth Library and involved storytelling and crafts. St John's International School pupils had the opportunity to be part of the Mini Melodeon Experience with Ray Langton Music where the young people learnt how to play simple tunes on the melodeon as well as learning some Percussive Step Dance routines with Jenny Read.

Join the many happy families already heading to the seaside for their festival summer holiday. You're all welcome!
For more information please visit http://www.sidmouthfolkweek.co.uk/