The Best in Irish Music, Dance & Song at Sidmouth FolkWeek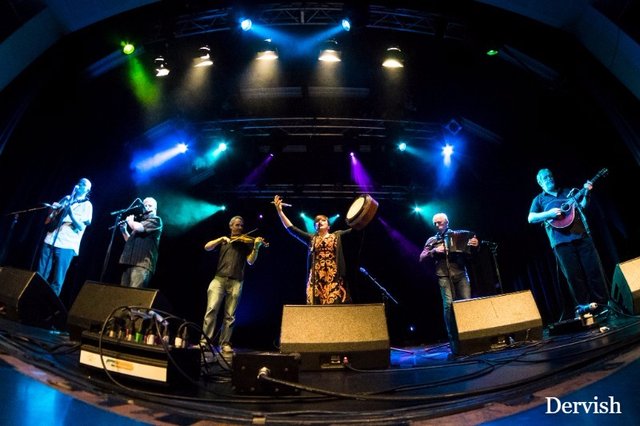 Irish music and dance has always played a big part in Sidmouth FolkWeek, with the Rory O'Connor Dancers being the very first international team invited to perform at the event in 1964!!
In 2017, the 63rd Sidmouth FolkWeek, recently awarded the prestigious Blue Plaque award for its cultural contribution to the region, continues to showcase the very best of music, dance and song from Ireland, amongst a diverse bill of folk music over eight days, in the idyllic East Devon seaside resort.
On the bill: Dervish play a headline concert at The Ham Marquee on Thursday 10th August. The outstanding performers of Irish traditional band are fronted by singer Cathy Jordan, one of the most distinctive voices and finest front-woman in Irish music. Their instrumental line-up of fiddle, flute, bouzouki, mandola, bodhran and accordion switches from exquisite subtlety to fiery energy.  
Daoiri Farrell, the impressive folk singer and instrumentalist who scooped an impressive double at the 2017 BBC Radio 2 Folk Awards in London this year, supports Dervish, as well as playing his own headline concerts on Thursday 10th and Friday 11th.
A very special finale event takes place at the Manor Pavilion on 11th August. She Moved Through The Fair: The Legend Of Margaret Barry is a brand new centenary tribute to the iconic London/Irish folk revival singer, co-devised by writer/narrator Colin Irwin and singer Mary McPartlan, blending words, music and theatre to thrilling effect. Margaret Barry (1917-1989) was a pivotal force in the early London/Irish folk revival, cited as an inspiration by the likes of Bob Dylan and Norma Waterson. On the centenary of her birth, Mary and Colin are joined by musicians and actors to celebrate Maggie's colourful, influential and inspirational life in music and song.
Elsewhere on the bill are an array of exciting acts including Slow Moving Clouds, a unique Dublin-based band who combine roots in Nordic and Irish traditional music with minimalist and experimental influences to create evocative vocals, and layered string soundscapes of cello, violin and nyckelharpa. The unforgettable voice of Irish Traveller Thomas McCarthy, passionate about the rights and heritage of the travelling people, is "a rare delight" and "profoundly moving". Flying the flag for tradition, Bryan O'Leary & Jack Talty are two young Irish traditional musicians from Co. Kerry and Co. Clare respectively. Marianne McAleer is a London-born Irish singer, multi award winner at both the All Britain and All Ireland Fleadh Cheoil champion in both Lilting and Singing in Irish. Jacquelyn Hynes Trio, led by the multi-instrumentalist and composer, who has supported and performed many of Ireland's leading musicians support Spooky Men's Chorale in concert, as well as their own more intimate concert sets. Luascadh Irish Dancers, hailing from the Midlands but maintaining strong connections to their ancestry, blends traditional and contemporary Irish dance with lively music. And, for hands on action, there are some fantastic workshops in Irish Set and Sean Nós dance.
Find out more about the 700+ event programme including headline concerts, intimate concert series, roots dance parties, ceilidhs, folk dance, Children's festival, storytelling, traditional sessions, workshops, display dance and much, much more at by visiting Sidmouth Folk Week's website below.
For more information please visit https://sidmouthfolkweek.co.uk/