'THE PIG: 500 Miles of Food, Friends and Local Legends' second book for The Pig due in May!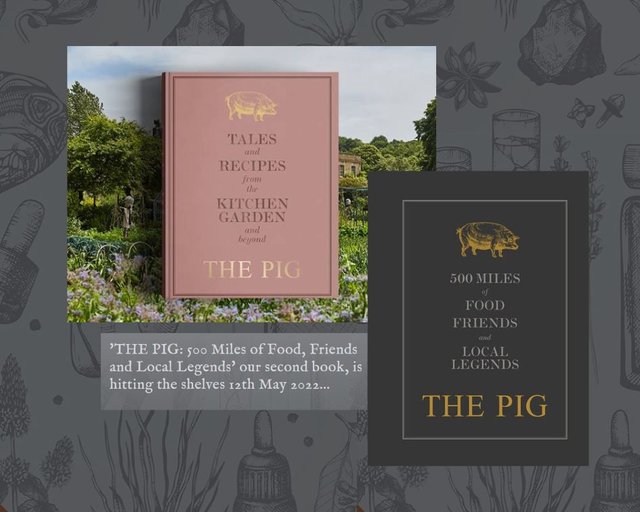 'THE PIG: 500 Miles of Food, Friends and Local Legends' our second book, is hitting the shelves 12th May 2022...
A lot has happened in the three years since we published our first book! Three new PIGs and of course a global pandemic to contend with…it has certainly not been boring!
THE PIG's second book is a celebration of the counties we call home, the unique produce and flavours associated with them and the exceptional cast of characters that make up the broader PIG family. Journey through the eight chapters – one per hotel and across 500 miles from Cornwall to Kent – and get to know a few more of our most valued artisan friends, the new generations of farming families reinventing themselves, a potted history of each of our much-loved buildings, and a peek 'backstage' into the lives of the unsung heroes of hospitality. Of course there are plenty of PIG recipes, gardening tips and tricks and chats with our PIG teams too!
Pre-order now & get FREE delivery plus be in with the chance to WIN the ultimate PIG weekender:

- 2 night weekend stay for 2 at any of THE PIGs
- A bottle of English Sparkling wine will be chilling in your room awaiting your arrival!

- 3 course dinner with a bottle of THE PIG Cut wine each evening

- The Full PIG Out breakfast each morning and Sunday lunch before you leave!

THE PIG Book on Tour
Relaxed pop-up talks, with a couple of glasses of THE PIG Cut wine, hosted by some of our local friends!
This summer THE PIG team will be travelling 500 miles from Cornwall to Kent, stopping off in a few of our favourite local watering holes and shopping hotspots along the way, to celebrate the launch of our new book, THE PIG: Food, Friends & Local Legends.
Where are we off to?
Saturday 21st May - Attico - Westbourne, Dorset (11am - 2pm - Drop in for a glass of PIG Cut with THE PIG and Attico Team where we'll be talking all things food, friends and loving local!)
Thursday 26th May- Padstow Bookseller - Padstow, Cornwall (5pm - 7pm - Heading West, we'll be stopping off in Padstow where you can join us for a glass of PIG Cut and a flick through our brand new book with THE PIG Team.)
Thursday 9th June- The Hambledon - Winchester, Hampshire (6pm - 8pm - Pop by The Hambledon, one of our much-loved Hampshire book stockists, for a tipple and a talk with THE PIG team.)
Friday 10th June- Durslade Farm Shop - Bruton, Somerset (2pm - 4pm - Sharing our love of homegrown, we'll be sharing our best foodie bits and supplier stories from the book with a glass of PIG Cut in hand.)
Wednesday 15th June- Macknade - Faversham, Kent (6pm - 8pm - Our final stop of the tour! We'll be going East-side for an evening of nibbles, tipples and talks around the best of local and our love of all things homegrown.)
Each pop up will see a few of our PIG people, joined by one of our local friends or suppliers, telling tales of the places we call home and why we think they are so special! Celebrating the county they are speaking in, they will take you on a journey from the Kitchen Garden to the plate, dropping in on a few local legends enroute and exploring the flavours that can only be found within 25-miles!
Or take a look at the THE PIG Book Bundle - Save £5 and make the most of FREE delivery and you will be entered in a draw to win the ultimate PIG weekender!
For more information please visit https://www.thepighotel.com/the-pig-book-2/