Tour of Britain in Ottery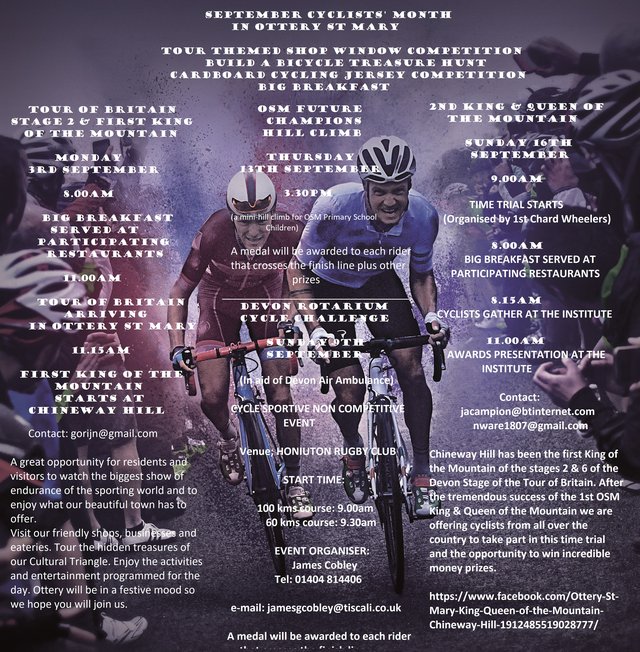 I hope you are all as excited as I am to see the Tour of Britain through Ottery once more.
It is expected that the race should arrive in Ottery around 11:17 and should then take a maximum of around 5-10 minutes to pass through.
This is then followed by Chineway Hill King of the Mountain around 11:20 – 11:25.
Road signs are now in place as delays are likely from 10:45 to 12:15.
To ensure the safe passage of the race it has been necessary to implement a clearway (no waiting or parking) as the race passes through Ottery.  Roads affected are:

Mill Street from junction with Mill Stream Court in an easterly direction

Broad Street (entire length)
Jesu Street (entire length)
Yonder Street (entire length)
Bridgefield (entire length)
Chineway Road (as far as pumping station)
The clearway will run from 09:30 until 12:30.  Please follow signs which are clearly marking these areas to facilitate the event safely.
The full route and estimated timings are available to view here - http://www.tourofbritain.co.uk/stages/stage-two/

These times are approximate.
Alongside the event many shop windows have been decorated to celebrate the event as well as activities, entertainment and many food events are to be enjoyed by all.  Please do come along and watch the event and enjoy the sunny day with Ottery.